Most homeowners prefer using bay and picture windows in their homes because they allow natural light to enter their house. However, these windows require a lot of room, which makes it difficult for most people to install these windows.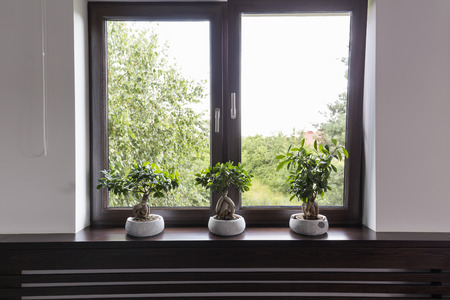 If you plan to install these windows, you have to design a wall of glass, which can make the room colder or hotter than desired. Homeowners who want natural light in their home, but don't have space or the money for it, can install casement windows in their home. These windows are constructed on a single hinge which allows it to open outside, creating more space inside your home. Also, since these windows open all the way, they allow maximum ventilation.
Easy to Install
One of the biggest advantages of casement windows is that they can be easily installed. Unlike bay or picture windows, they don't require too much space on the wall and you can install them without professional help. Even if get help from professionals, they will be able to complete the job in less than a day. Also, unlike double-hung windows which require you to be near it to have leverage when you lift the sash, casement windows have no such requirement, as there is a turn-around handle to do the job for you. This feature makes them the perfect option for hard to reach areas, such as bathroom toilet, full countertops, or kitchen sinks. These windows are natural ventilators and are ideal for humid and hot areas of the house such as bathroom, converted attics, and kitchen.
Other Benefits of Installing Casement Window
A few other benefits of installing these windows are:
Energy Efficient
A casement window is a preferred choice in a residential setting because they leak less air and create a tighter seal between the frame and the sash. If you are planning to install these windows, it is a good idea to get impact windows or hurricane windows for your home. These storm windows protect your home from high winds and debris. Impact resistant windows are also energy efficient, as they prevent heat from entering or escaping from your room.
Locks
These windows have easy-to-reach interior locks which make them ideal for hard-to-reach areas of your home.
Easy Escape
Most households use casement windows in their basements to fulfill the requirements of fire codes. Since these windows are tall, they can open wide, and they can be utilized as an emergency exit.
Easy to Clean
These windows are not only easy to reach, but they are also very easy to maintain. You can open it all the way, distend it and disengage the arm hinge to gain full access to the tracks, frames, hinges, and glass for easy cleaning.
Maintenance
Like any other windows, these windows must also be maintained properly. They must be cleaned regularly, and the hinges must be lubricated. If you are planning to move into an old home that has casement windows, you may have to invest in new frame replacement windows. The crank and the arm hinge receive so much stress due to constant use that you may have to buy a new sturdier model. So, if you were planning window replacements for your existing home, casement windows must be your first choice because they are easy to install, inexpensive, and add to the resale value of your home.
Check Other Locations in Fort Lauderdale We Service:
Weston FL, Pompano Beach FL, Sunrise, LightHouse Point, Tamarac FL, Hallandale FL, Plantation FL, Pembroke Pines, Lauderhill FL, Coral Springs FL, Parkland FL, Hollywood FL, Lauderdale Lakes FL, Margate FL, Davie FL, North Lauderdale FL, Deerfield Beach FL, Dania, Oakland Park FL, Miramar FL, Replacement Windows Fort Lauderdale, Coconut Creek FL